This FAQ pertains to the NESDR SMArt HF Bundle & NESDR SMArt XTR HF Bundle. If you have a question about another bundle or product, click on the appropriate FAQ on the left!

Both versions of the NESDR SMArt bundle are exclusive to Amazon, though you can also refer to this FAQ if you are using both an SDR and a Ham It Up upconverter in your SDR application.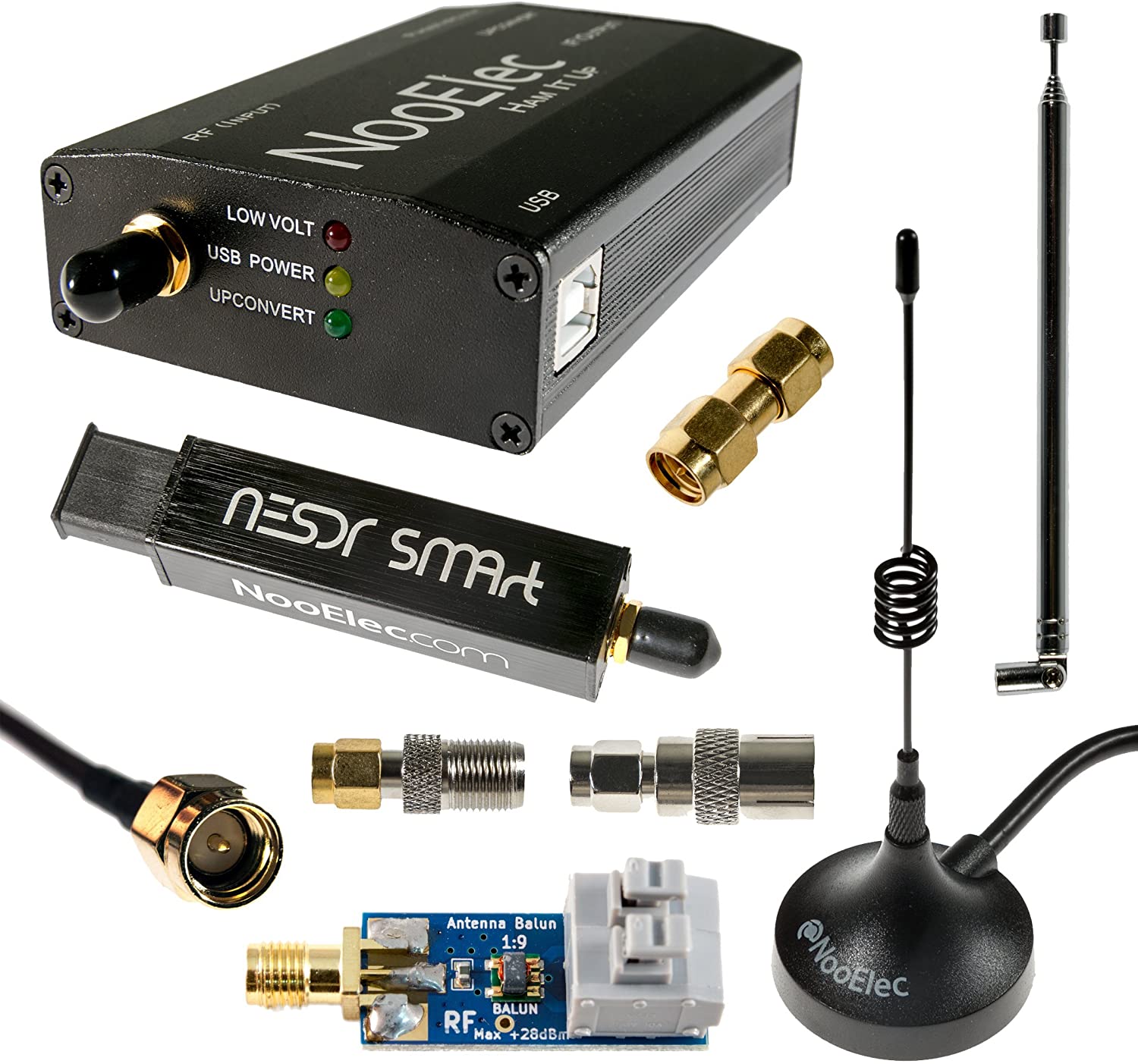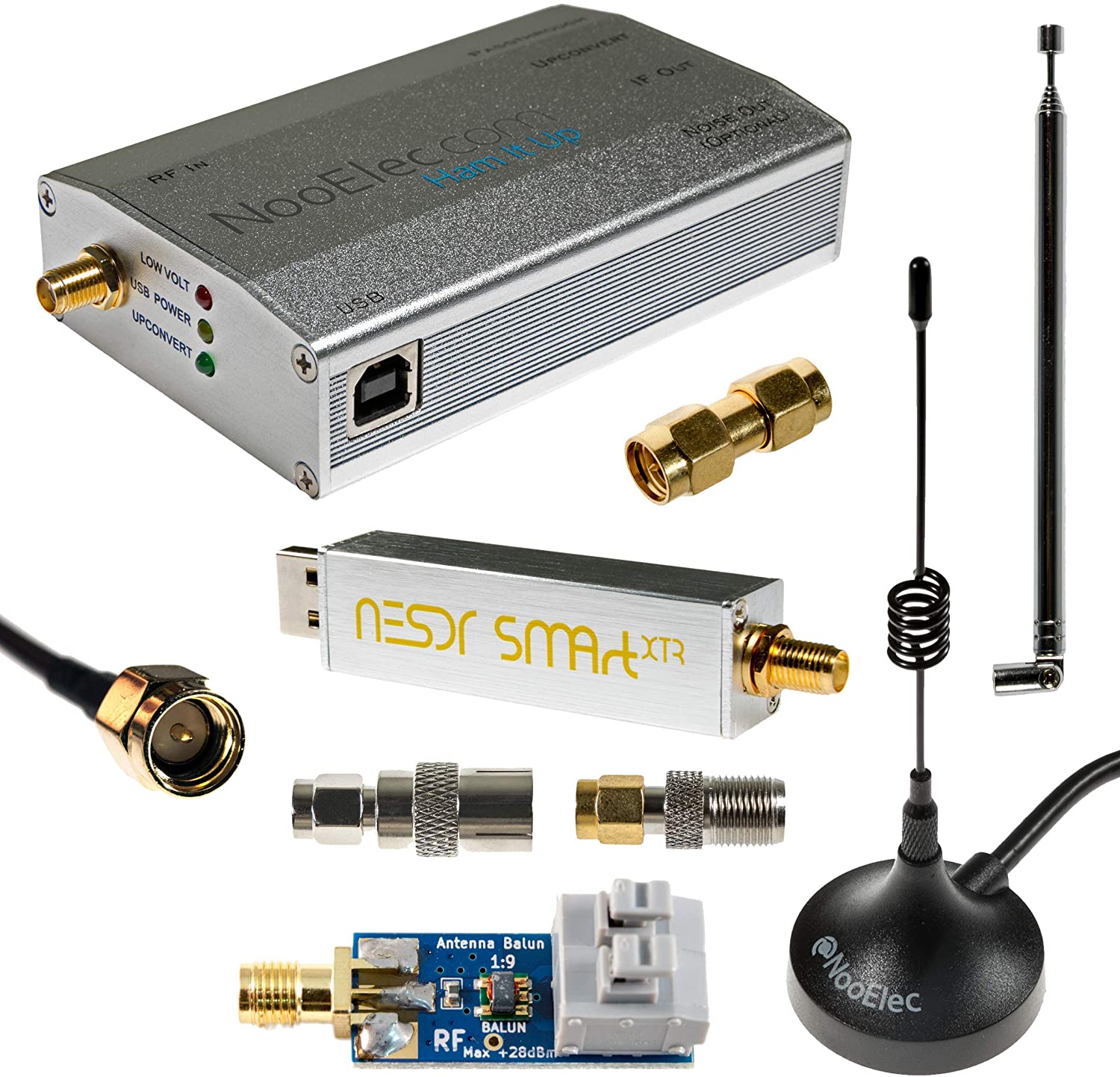 NESDR SMArt HF Bundle, SKU: 100764 NESDR SMArt XTR HF Bundle, SKU: 100794

What products come in the NESDR SMArt HF Bundle?
Each HF Bundle comes with the same broad components: an SDR, an upconverter and a variety of accessories. The full breakdown of the bundle contents is as follows (click on the hyperlinks to visit the respective product pages for full product details):



I just received my HF Bundle. What do I do first?

First, take the NESDR out of its plastic bag, plug it into your computer, and perform the installation procedure as outlined in our Installation Guide. Once completed, attach your antenna base and mount the telescopic antenna on the base. Test your SDR in your SDR Software using a local FM broadcast radio station as your test frequency. Assuming that you're able to receive this signal without issue, you can proceed to connect the Ham It Up using the steps below.

How do I connect everything together?

Start with the Ham It Up Upconverter and connect the other components as follows:
Connect your antenna to the RF input;
Connect your SDR to the IF output;
Ensure your toggle switch is in the upconvert position;
Plug your USB power source into the USB jack.
My upconverter is not recognized by my computer! Is it defective?
No, it is not defective. The upconverter communicates with your SDR and your SDR in turn communicates with the computer/host device. The Ham It Up will not be detected by your computer and does not require drivers.

What is the USB cable for?
This cable is used to power to the upconverter. The easiest way to do this is to use USB power from a spare USB port on your computer/host device. You can use a different power source if you prefer. The power requirements for each Ham It Up upconverter are as follows:
Ham It Up v1.3: 55-75 mA at 4.0-5.5 V
Ham It Up Plus: 135-155 mA at 4.0-5.5 V
What software settings should I use?
When using the Ham It Up, in upconvert mode, you should enable offset tuning (set the value to -125 MHz or -125,000,000 Hz, depending on your software) to account for the LO frequency of the upconverter.


We recommend always disabling AGCs (automatic gain control) for all SDR applications. You're better off using gain sliders.

You will need to select the appropriate demodulation type (e.g. AM, FM, SSB, etc) for the signal you're tuned to at any given time.

My upconverter isn't working in 'upconvert' mode, only in 'passthrough' mode.
When the upconverter is in passthrough mode, it is essentially 'off'. It passes signal straight from the antenna to the SDR without conversion. When in upconvert mode, the upconverter can only convert signals that are within the upconvert range. You must be tuned to a frequency within this range in order for the upconverter to work. Depending on which version of the upconverter you have, the range will differ:
Ham It Up v1.3: 100 kHz to 65 MHz
Ham It Up Plus: 300 Hz to 65 MHz
If you are not tuned to a signal in this range, tune to a local AM radio station instead and you should see the signal come through.

Why can't I listen to my favourite FM radio station when my upconverter is connected?
You can, just make sure to flip the switch to 'passthrough' and disable offset tuning in your software. This will allow you to receive signals normally through your SDR.

What do each of the LEDs on my upconverter mean?
Red = low power
Amber = powered
Green = upconvert mode on

When your upconverter is receiving sufficient power, you'll see the amber LED light up. If the red LED is lit, this indicates that the upconverter is not receiving enough power. The green LED indicates when the upconverter is in upconvert mode.

The red LED is lit, what should I do?
The red LED only comes on when the upconverter isn't receiving sufficient power. Check your USB cable and USB port (or other power source) to make sure they're working properly. You can also test the efficiency of your cable/port by switching USB ports or cables or using a different host device.

What antenna should I use for HF?
We recommend using a longwire antenna for HF frequencies as none of the other included antennas are suitable for this range. You can make your own longwire antenna using the Balun One Nine included in your bundle.

Reference this longwire antenna guide to find out how to make an antenna for your frequency of interest.


Can't find the information you need? Contact our friendly Customer Support Team using the Support chat window in the bottom-right corner of the page. One of our Customer Support Specialists would be happy to assist you!