This FAQ pertains to LaNA, Nooelec's own wideband low noise amplifier. If you are looking for information on a difference device or product series, look for the appropriate FAQ on the left!

What is LaNA?
LaNA is a high-performance wideband LNA module designed for general purpose SDR applications.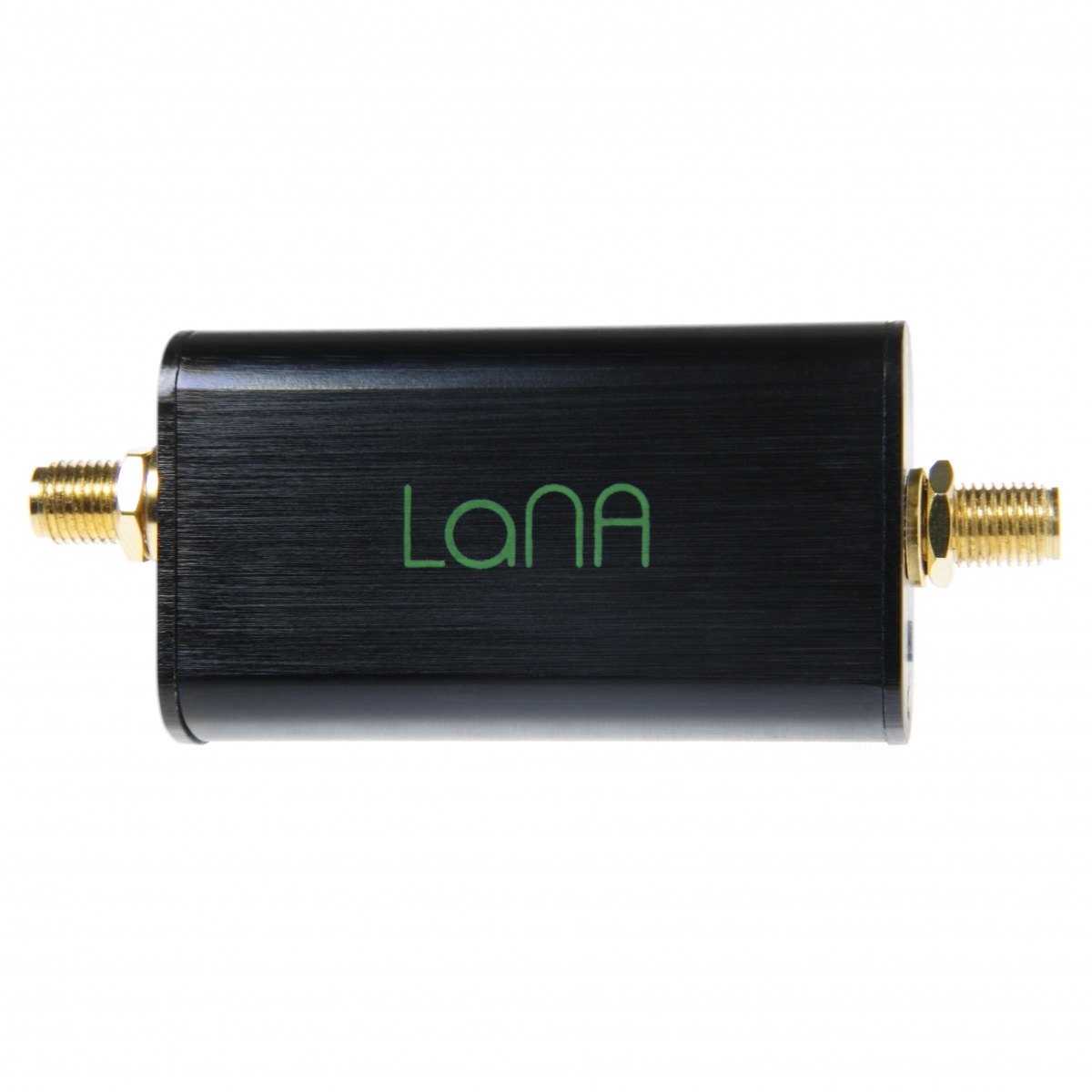 What type of applications can I use LaNA for?
+20MHz applications that require an extra RF gain while making sure that the input power is less than 0dBm (1mWatt).

How much gain can I expect to receive with LaNA?
The gain (amplification) is dependent on the frequency you are trying to receive. Based on our own testing of the device, the expected gain throughout the frequency band is:
| | |
| --- | --- |
| Frequency (MHz) | Gain (dB) |
| 50 | 26 |
| 100 | 24 |
| 500 | 24 |
| 1000 | 20 |
| 1500 | 17 |
| 2000 | 16 |

What is the noise figure?
The noise figure (NF) is dependent on the frequency you are trying to receive. A breakdown of expected noise figures by frequency is included in the product data sheet (linked below).

How much power is required to operate LaNA?
Power consumption ranges from about 50-80mA, depending on the input voltage. There are 3 power input options, including: DC power through a bias-tee capable SDR, the micro USB port, or DC barrel connector.

I'm powering my LaNA externally via the USB port, but it doesn't work when connected to my SDR. What's happening?
It's important to note that some SDRs are designed such that their ESD protection diode is tripped when connected to LaNA when powered externally. You can still use the LNA with these SDRs of course, but you would need to install a DC block between the LaNA and SDR. This can be as simple as a low-distortion, high-quality capacitor in series with the RF path, should you prefer a DIY solution.

Can I use my LaNA to transmit with a transceiver like the HackRF One?

Yes, it is possible to use the LaNA in a transmit application, but please note that it will not be an efficient amplifier if used in this way. The maximum output power of the device is arround 0.1 watt (20 dBm). The power at the input of LaNA must not exceed 10 dBm, or else you risk damaging the device. If using LaNA in a transmit application, please note you must power the LNA through the micro USB port as the device cannot receive bias tee power through the input SMA connector.

Additional information is available on the product page and in the product data sheet.

Can't find the information you need? Contact our friendly Customer Support Team using the Support chat window in the bottom-right corner of the page. One of our Customer Support Specialists would be happy to assist you!